Greenville River
April 23,24,25th 2004

I took a vacation day on Friday so I could take my daughter to the dentist then have a reason to leave early for the Ohio Historical Canoe Route Association's April canoe trip on the Greenville River around Greenville, Ohio. I took Ohio St. Rt. 36 west through Piqua where I crossed the Miami River, then through Covington where the Stillwater River merges with the Greenville River. Then on to the city of Greenville. The city where the Greenville treaty was signed with 12 Indian Tribes in 1795 (what good were treaties???). The Chippewa, Delaware, Eel River, Kaskaskia, Kickapoo, Miami, Ottawa, Piankeshaw, Potawatomi, Shawnee, Wea and the Wyandot Indians were all represented.
Ted secured permission to camp at the Prairie Ridge Meadow, Darke County Park. It connects to the Greenville Treaty city Park. Nice area for being in the middle of town. Ted was already there when I arrived so we "scouted" the river upstream and downstream of town. Not a bad looking river. Good water depth (1.79 on the USGS stream gauge) and clear. The Greenville River at this area is around 30-50 feet wide. Not a strong current but adequate. When we arrived back at "camp" Paul Woods was there. Now we are 3.

The caretaker of the Park said we could have a fire if we dug a hole and put the sod back in when we left, "no trace". Of course no one had a shovel and it was chilly and damp. Overnight low was 44. At dark Paul K. showed up. Now we are 4. And he had a shovel, but by then it was too dark to gather wood, or a lack of ambition for doing it. So after shooting the "bull" for awhile we hit the sack. We all slept in our vehicles.

At 7:00a.m. an alarm on the building that houses the restrooms went off. Real loud noise. Found the reset switch and the world was quite again. It really was nice to have an alarm clock but next time…I'll use my watch thank you!!
We had a scheduled launched time of 9:00 and it looked like just the 4 of us going until out of blue arrives Jodie, without Jim. Next here comes Ernie and Heather. Great, now I get to meet more of the OHCRA group. We are now 7!! We called Jock, the club president, last night and asked him where he was. He thought the trip was next weekend. Hello Jock!!! But true as he is he said he would be there sometime later in the day.
We shuttled 3 vehicles, 16 miles downstream to Croft Mill Road and made it back to the Park for a 10:00 launch. One by one the canoes were put in the water, except Jodie who used a…cough, cough, kayak!!! AS Paul Woods was stepping into his canoe it took on a mind of it's own and it decided to launch while Paul had one foot in the canoe and one on shore. Not a good way to start a trip, But Paul has high spirits and off we went.

We stopped for lunch 6 miles downstream at Bear's Mill, one of the last operating water-powered mills in Ohio. The portage around the damn wasn't too bad. Just getting out thru the briars was the problem. We toured the Mill and it really is neat. After 7 hours of paddling, including lunch, we arrived at the 16 mile takeout point. The weather was warm and sunny and some of us even had sunburn. Not bad for an April day. Off we went back to the campsite where low and behold their awaits Jock, broken window and all. Now we are 8!!



Back at camp we started supper and collected firewood (remember we now have a shovel). I'm making an asparagus, noodle dish, Ernie & Heather have meatless sloppy-Joe's, Jodie has pork chops, Ted, polish sausage & potatoes, Paul W., fire cooked polish sausage, Paul K. had ham sandwiches and Jock went uptown and got chicken and coleslaw, etc.

Life is good!!!

After supper we all settled down to a nice campfire and small talk. Ted had the entire Greenville Treaty printed out for us to read. Try reading it some time, no wonder the Indians didn't understand it. We retired to bed hoping to canoe some of the upstream stretch in the morning, but the rain was settling in. I had the rain fly set up and unfortunately at 6:00a.m. the rain started. I'm drinking my hot tea and watching the rain come down. It was peaceful but I really wanted to canoe some more. April isn't the best month to canoe in a cold rain, so we, as a group canceled Sundays run. No big deal, there's always next month!!

Some of us did check out the Greenville Falls on Sunday morning , which was way downstream from our take out spot. A beautiful area. I wonder what it looked like before us white men showed up.

I like the area and do hope to get back there someday. Maybe when I have more time on my hands...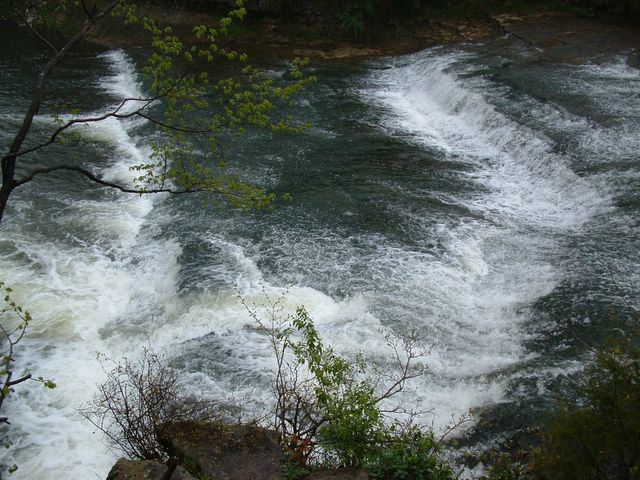 View All Pictures of the Greenville River