Greenville River
April 22,23 2005

I geocached all the way down to the city of Greenville on a misty and rainy, but warm Friday. I was the first to arrive at the Prairie Ridge Meadow, Darke County Park. Then Ted and Connie, who had car trouble, pulled in, Followed by Paul K., Paul W., Harold and Laura, and lastly Jock and his "squaw" Debbie.

We had to share the park with around 250 boy scouts on a weekend Camporee. Our fire had to be in a half metal barrel, provided by the park, as the scouts are taught to not dig holes or leave fire evidence if possible. Check out the pictures of it. Who wants to make the club one or two of these??

As darkness came it got quite colder, rainy, and windy. We had a "Tarp City" set up and were glad we did. Had a great social time before bedtime. In the middle of the night I could hear lots of rain coming down. I was toasty warm in my down sleeping bag but awoke off and on with the bathroom urge, and kept putting it off and going back to sleep cause of the cold.

At 6:30 a.m. Paul Kís voice just wouldnít let us sleep anymore. I sat up and saw SNOW. It was cold, windy, and snowing. The fire was blazing as people slowly emerged from their sleeping areas. The gray skies slowly brighten, but how bright can a snowy day get. There was discussion of going home when I reminded everyone that we didnít canoe the upper section of this river last year because of rain. Harold, Paul K., Ted, and I all decided to brave the snow and wind and canoe the six to eight miles upstream back to camp.

Tedís friend Lance showed up. He also agreed to go. After being shuttled up to Coletown we launched the canoes at 9:55 a.m. The water was high, muddy and fast. Haroldís GPS showed six mph on one stretch.

Now Lance, who isnít an OHCRA member, YET, was using a wooden kayak paddle in his Old Town Canoe (is that legal?) A couple hundred or so yards downstream he pleasured the Greenville River with his dry flesh and clothing by just floating along side his "half full" or "half empty" canoe. Did that kayak paddle have anything to do with it? There were strainers to cope with and with the fast water there wasnít much time for decisions. But we helped each other by scouting and yelling out directions. Poor Lance got caught again and received yet another baptism.

The Greenville is nice in that area and with lower water levels it would be a different, tamer river. Better weather would also bring out more wildlife, as I saw lots of signs of wildlife along the way. When we neared the Park and our camp, which is by the big silos, we portaged the canoes 100 yards, give or take, back to camp. The folks at camp had what was going to be the potluck meal for Saturday night, heated and ready to go, for lunch. White chicken chili soup, regular chili, pie, cheese, hot dogs, chips, potato salad, etc. we ate well. Of course it rained the whole time, but under the "Tarp City" we laughed, ate, and did what only OHCRA members are brave enough or dumb enough to do. Be out in these kinds of conditions. Lance received his Indian name for this trip:
"Lance..Dumps A Lot".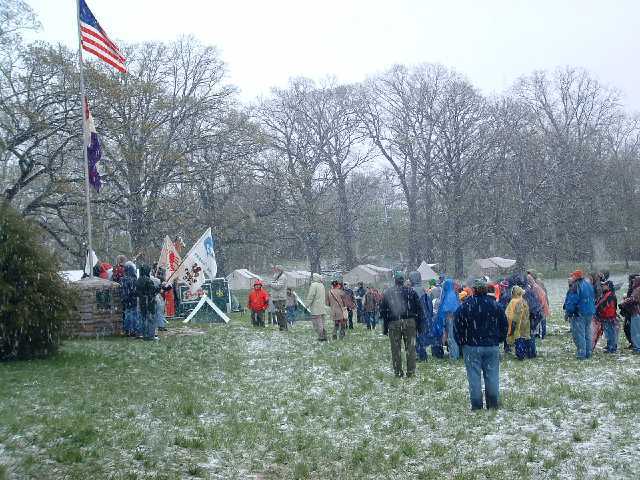 No one wanted to brave the rain, snow and cold for a second night so we packed up as did most of the boy scouts. Ted, Connie, Jock, Debbie, Harold, Laura, and Paul W. went to the Garst Museum. Paul K. started home and I went to find a couple more geocaches. With all the rain one cache was under water so I couldnít claim it!! The next day at my home in central Ohio, we received 4.5 inches of snow. Welcome to April 24th in Ohio!!
The 2005 OHCRA canoeing Season is now under way. Please join us. See ya on the water real soon!!!
View all pictures of the Greenville River Trip