Little Miami River
August 19,20,21 2005

The Little Miami trip started out very hot and humid. Friday was almost unbearable with the heat and it rained Thursday night, which added to the humidity and a muddy campsite. Sites 13 and 15 were reserved for us but 13 was a mess so we settled for 10, 12 and 15. Harold and Laurie and Laurie's friend Maggie were camping in site 14. Laurie and Maggie came down early for some big tennis tournament over by Kings Island. Also gracing the weekend with their presence was Tony and his brother John, Larry and Sophia who were fun to have in camp, and trip leader Ted and his wife Connie. Connie's nephews Matthew and Andrew also joined us. Jonathan Ziska, a face from the past, brought his 2 kids, Joshua and Jessica and Jock was there with Debbie and her friend Denise. Paul K., Jim W. and Lance rounded out the weekend canoeists.

Fort Ancient State Memorial, http://culture.ohio.gov/project.asp?proj=ancient is located just across the river and up the ridge from the campground. Tony and John went over Friday afternoon to learn more about the Hopewell Indians, but we really think it was more for the air conditioning!! After everyone was settled in and darkness started to over take the day, Harold (the gadget man, i.e.-battery light, battery fan, 12 volt air mattress blow it up thing, etc.), broke out the left, right, center dice game. Quarters were brought out and passed all around the table until someone had them all. Who?? Because of the warmth, no one sat close to the fire but no one noticed cause Larry was telling good jokes all evening. One by one everyone retired to bed as the monthly full moon rose higher in the sky.

Saturday morning started warm but promised to be a great day for canoeing. After everyone performed their morning routines we hit the road for the 13-mile ride up to the town of Corwin and our launching point. It was great floating in the clear water listening to the sounds of nature and the laughter of people enjoying a day on the river. Then it happened…we canoed past a launching spot for a canoe livery. Not one but 4. There are at least 4-canoe liveries on this stretch of the river. There were dozens if not hundreds of canoes on the water. Now mind you, this was the last weekend before schools and colleges start another dreadful year of learning, so we guessed everyone wanted one last hurrah for summer. It was like driving in New York City traffic, weaving back and forth and in and out. We as a club paddle our canoes with a destination in mind. These other canoers and kayakers, were just floating and reaching for what ever they could pull out of their coolers. But they were having such a great time and everyone was polite and let us past.
As we got closer to the campground, the wind picked up and clouds starting forming overhead. We finished the 12.685321-mile paddle, pulled the canoes up on shore and got ready for rain. A cold front was moving through and it looked nasty, but we lucked out. Only sprinkles. (Not so lucky up north where trees were blown over and heavy rains fell.) When we looked real close at Jock something didn't seem right. On his head was blood. Apparently he got into a fight with some tree branches, but

we know who won!!
Ted and Connie were cooking up some Shrimp boil for the troops. It had shrimp, chicken, sausage, potatoes, corn and who knows what else in it. A big turkey fryer did the trick and we ate and ate. There were also deserts to die for, plus Sophia's macaroni salad and Jock's green beans and ham. After supper we played corn hole. Now if you're not from the Cincinnati area, you're probably wondering what corn hole is? You use cloth bags, like 5x7" filled with corn and throw them, under hand onto a piece of wood with a hole in it. It the bag lands in the hole its 3 points. Just landing on the wood is 1 point. Its kind of like horse shoes but different. When it was too dark to see the corn hole boards, out came the left, right, center dice game again.

Lance had to leave early to attend a Jimmy Buffet concert in Cincinnati, the lucky guy had tickets, and so we were surprised to see him pull up a little before dark. "Did the concert get rained out? Was there bad weather down south?" No, No. The concert was Sunday night not Saturday night. That just meant he could canoe Sunday with us. Jock, Debbie and Denise also had to leave but first we had to celebrate Debbie's birthday, which is Monday. We were not allowed to spank her.
Sunday morning looked dreary and fog started rounding in. The humidity broke and it felt pretty good. Do we take raincoats for the trip downstream? After breakfast the sky cleared and blue showed in the heavens. Some members had to leave earlier than others so 2 different trips were planned. The first was a 3-mile paddle down to the village of Morrow. Ted, Connie and the boys along with Jonathan and his children, Lance and Paul K. took out there while Harold, (Laurie and Maggie did the tennis thing), Tony, John, Larry and Sophia made an 8-mile trip to South Lebanon. Saw lots of little turtles and blue herons and Larry and Sophia saw a raccoon swim across the river. Kingfishers were diving for lunch while crickets chorused in time. A fine trip on a historic, but popular river in Southwestern Ohio. Until next month…Keep the water on the outside!!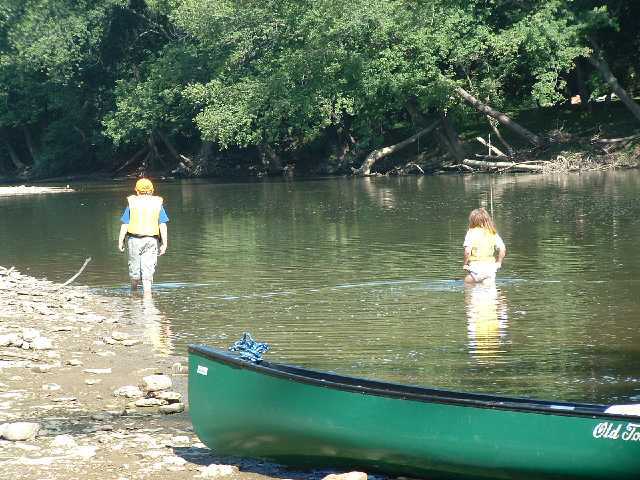 View all pictures of the Little Miami River Trip